Expo 2015 Milano Viaduct Competition
Competition Entry | KMT/n-o-m-a-d, December 2010
Design: Gunther Koppelhuber, Tim Altenhof, Aurelius Weber

 
"Ponte per Expo 2015" is an infrastructure competition entry for a bridge in Milano.
Mobility is a prerequisite for the economic success of a region. A functional infrastructure is necessary to maintain an area's competitiveness in a tough global economic climate. Infrastructural elements allow for flows of people and goods upon various levels, and serve as the conductors for the composition of the whole in a global society.
Road construction, in particular, arouses attention. Not only are roads primarily responsible for individual traffic; they also have to deal with a number of negative side-effects. Noise, general environmental and fine particle pollution contribute to a negative image, as does the role that individual automobile traffic plays in the CO2/global warming debate. Encroachments upon nature and habitats, and cultural landscapes, and the danger for life and health contribute to an often negative public-image.
The following project views these side-effects of road-construction as both a challenge and a chance to change the approach to road building for the future.

Viaduct - Antonio Capsoni, Como
The viaduct as an elegant landmark spanning over the EXPO area. The user perceives the project along changing dynamic perspectives, which effect is enhanced by noise protection elements.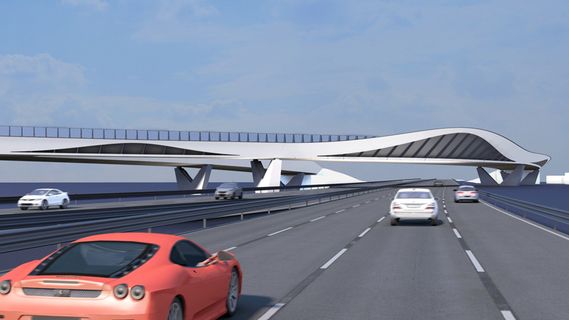 Viaduct - Soffit - KMT/n-o-m-a-d
The viaduct becomes an entrance gate for the expo-visitors. In order to address the importance of a gate, the soffit will be transformed by a temporary membrane structure which will be used as a responsive multimedia entity.
Muro - KMT/n-o-m-a-d, Vienna
This sequence of the project of the wall offers an economic solution. Nevertheless the impact caused by the size of the wall requires a special esthetic treatment of the element.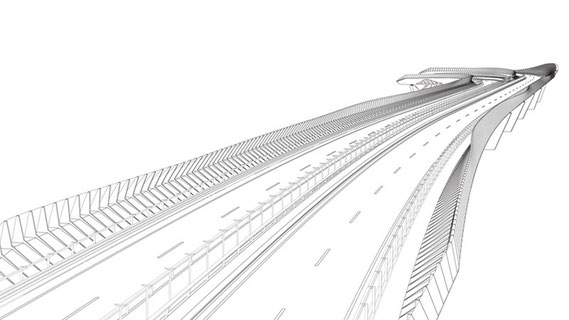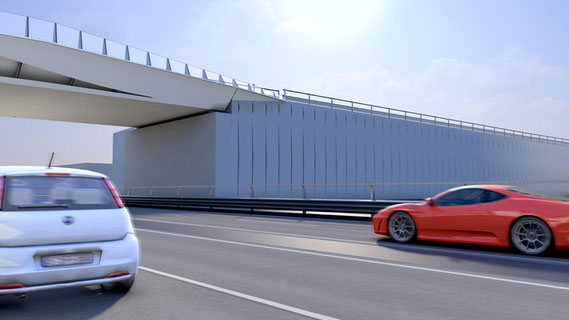 Certosa Intersection - KMT/n-o-m-a-d, Vienna
A green component
Supporting walls, resulting from different levels of drive ups, ramps, and exits of the road scheme, serve as an ecological element. Moss mates on the walls may deal with pollution caused by traffic and contribute to amend climate conditions.
Tunnel Canopy - KMT/n-o-m-a-d, Vienna
Form and function meet at this sequence of the project:
The tunnel canopy serves as a transitional element for users leaving the tunnel, protect the view from direct sunlight, and carries photovoltaic elements which provide electricity for tunnel lighting.